Welcome to the Wonderful World of Collecting Revenue Stamps!
Introduction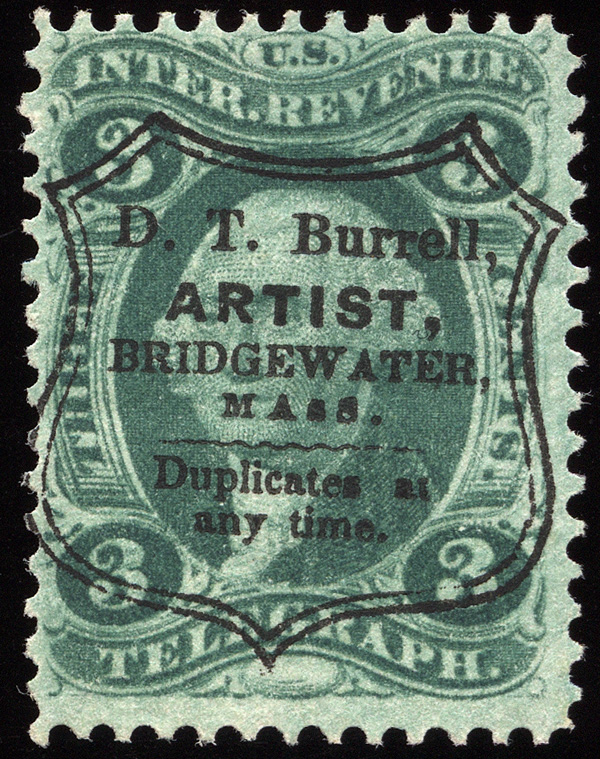 I've been a stamp collector off and on my entire life, from the age of about 10 years old. I've collected stamps from countries around the world, focusing on 19th and early 20th-century issues, as I've always been drawn to the "classic" stamp designs as opposed to modern issues. However, for the last 20 years my area of specialization has been revenue stamps of the United States (Scott Catalogue "R" prefix listings, e.g., R, RB, RC, RD, etc.).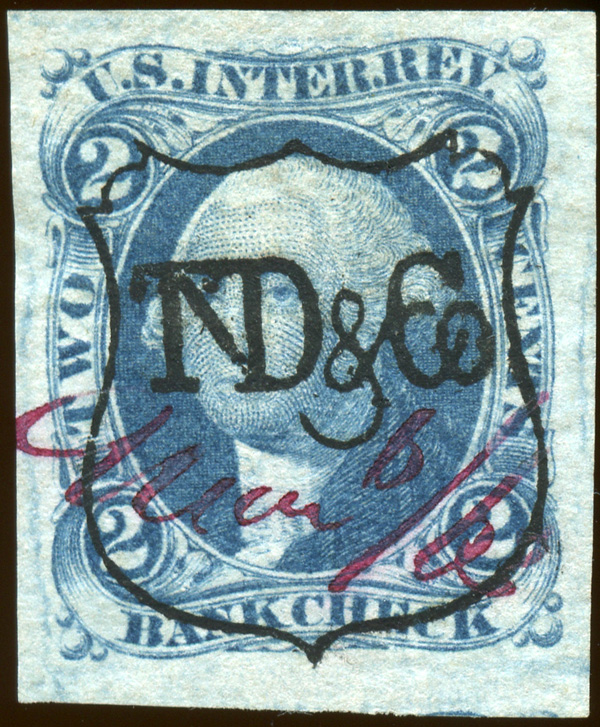 I don't recall what specifically drew me to U.S. revenue stamps, but likely it was the large ornate engraved designs of 1st Issue revenue stamps of the Civil War era, which eventually became my area of focus. They provide a rich canvas for the handstamped and printed cancels from that era, which are much more bold and varied than postage cancels from the period. Postal cancels only needed to mark the stamp as the postage being paid, and to prevent re-use of the stamp. There was no long-term need to preserve the information canceling the stamp. With revenue stamps, however, especially documentary usages, there were clear regulations requiring clear identification of the party canceling the stamp, and the date it was canceled, in the event there was a question the tax had been paid. Most documents to which revenue stamps were affixed were retained as part of bank, court, and company records; they were not immediately disposed of, as was the case with most postal uses (covers).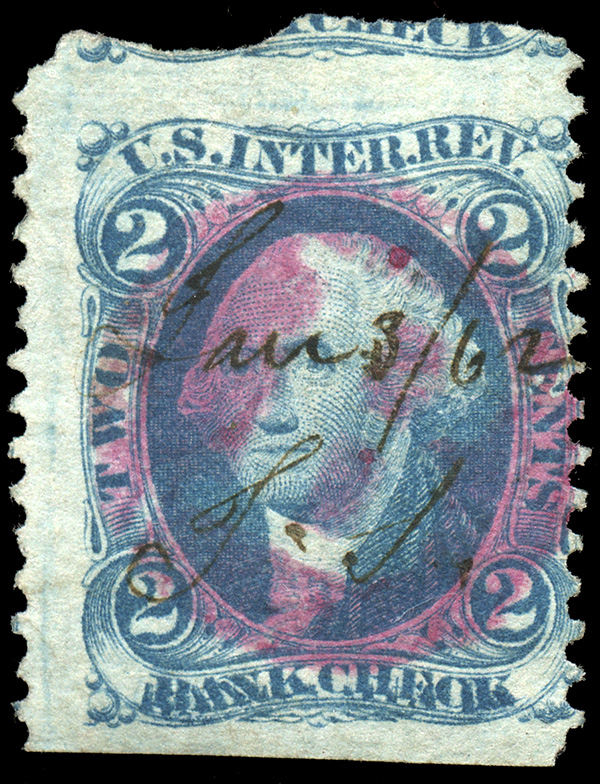 Once I had been collecting U.S. revenue stamps for a while, I started focusing on handstamped and printed cancels, which was my area of interest for a good 12+ years, then becoming interested in printing plate varieties (double transfers, cracked/scratched plates, doubled framelines, foreign entries, double impressions), although I've never gone so far as to start plating stamps. I also developed an interest in revenue bisects on document.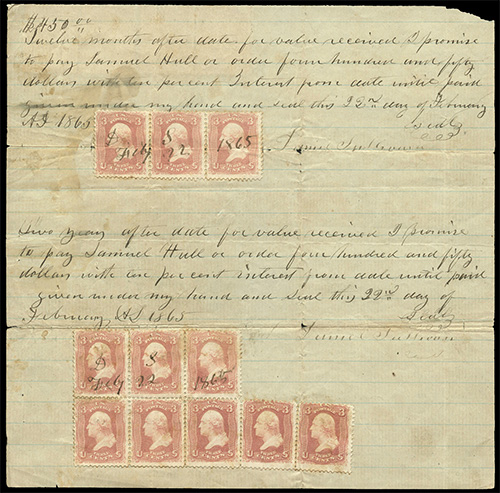 My area of focus for the last several years has been on illegal usages of postage stamps as revenue stamps on documents, and revenue stamps used for postage on covers. In other countries, especially those of the British Commonwealth, postage and revenue stamps were allowed to be used interchangeably, and thus are very common and perceived negatively by collectors. However, this cross usage of postage and revenue stamps was prohibited by law here in the United States. This makes them much more scarce and collectible items. A subsection of this area is the illegal usage of non-documentary U.S. revenue stamps as documentaries, and other cross-type illegal usages. Certain 1st Issue revenue stamps, specifically the Playing Cards and Proprietary types, were not legal to be used as documentaries, although the practice was condoned, making them a "nominally illegal" practice. The same is the case with the early Proprietary stamps (RB).
What Will I Find on This Site?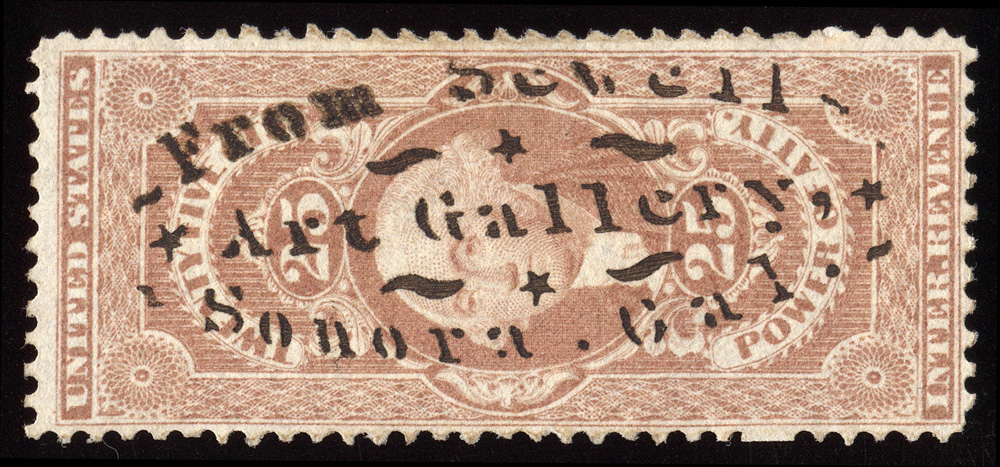 First and foremost, this website is a photo gallery for my personal collection, currently at over 4,000 items scanned thus far. You can go to this page to see the latest additions. You can search by cancel type, company, date, and other attributes. There are pages for various and sundry types of revenue documents. There are also identification charts for first issue, second issue, and third issue revenues, as well as the first issue proprietary, and second issue proprietary issues. Beyond the material in my own collection, there are reference pages for revenue double impressions, revenue bisects, 1st issue silk papers, and an extensive plate variety reference.
As long as you're here, check out my blog!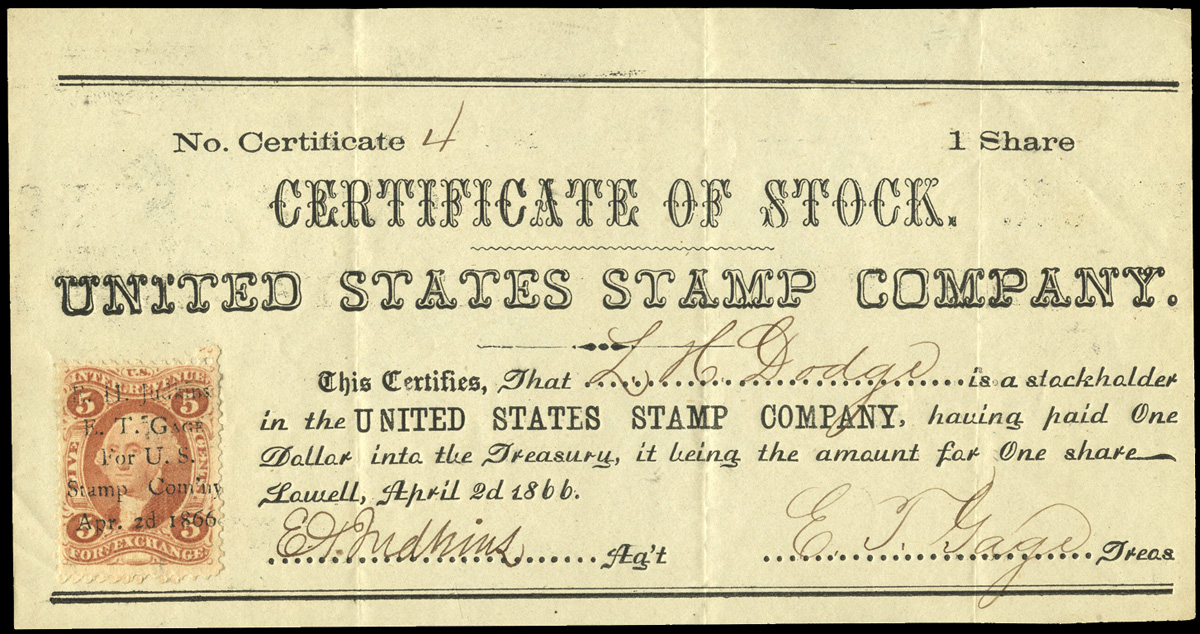 Recent Additions
April 2, 2023 - Census page added for double transfers on the 1917 $500 Alexander Hamilton documentary and its overprints.
July 23, 2020. - Reference page added for Civil War Tax Rates.
April 25, 2020. - Page added for 1st Issue Part Perforates, Imperf Vertically.
May 5, 2019. - Page added for U.S. and foreign revenue stamps used on the same document.
September 10, 2018. - Page added for my small-sized revenue stamped paper (RN).
February 14, 2018. - Website design overhaul! I've implemented a responsive, more mobile-friendly site design.
January 13, 2018. - I have added a page for Pacific Mail Steamship Co. straight line handstamp cancels.
August 17, 2017. - I have added a census page for R15e (2-cent USIR on green paper).
Enjoy! -Dan