Counterfeits, Forgeries, Altered Stamps
These items are shown here for reference purposes. They may be deliberate attempts to fake higher-value stamps, or they may be items that turned out to not be what they were thought to be when expertized.
Click on any thumbnail below to pop up a window with a larger image and more information.
Scott # 279
Faked provisional overprint.
Scott # R3a
Purchased as a fake, the decision by The Philatelic Foundation (1986 cert) is an interesting one. I have no doubt that it is not an R3a; the side margins are too tight. However, I question their determination that it is an R3d (silk paper). I scoured both sides of the stamp with 30x magnification and could find no evidence of blue silk threads. Making such a determination based on ink or paper color is not conclusive.
Scott # R3b
R3b trimmed at top and bottom to appear to be an R3a. Handstamp with inverted year slug.
Scott # R3b
Has characteristics similar to the Hart L. Pierce counterfeits.
Scott # R3c
Scott # R3c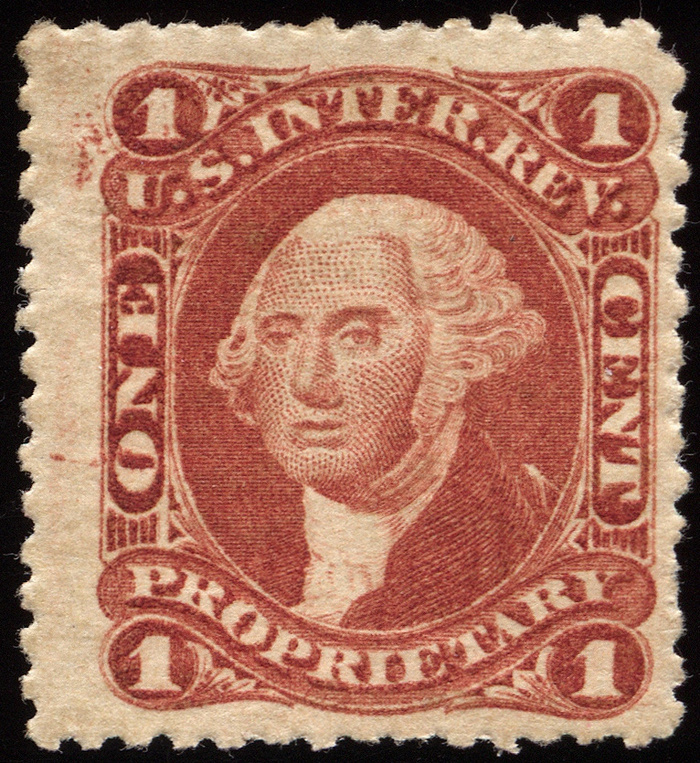 Hart L. Pierce counterfeit with full original gum.
Scott # R6b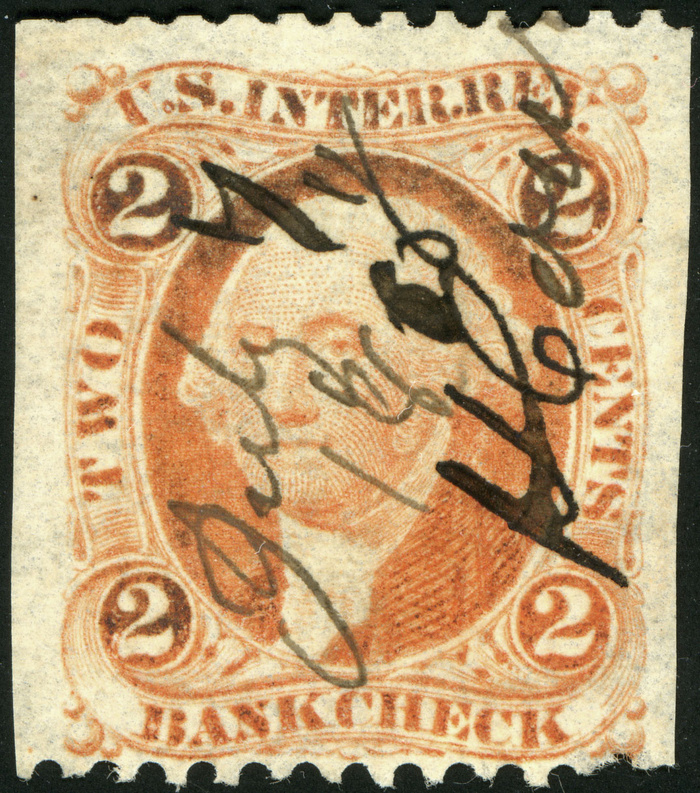 Likely a trimmed fake. The cuts at left and right don't look right.
Scott # R6c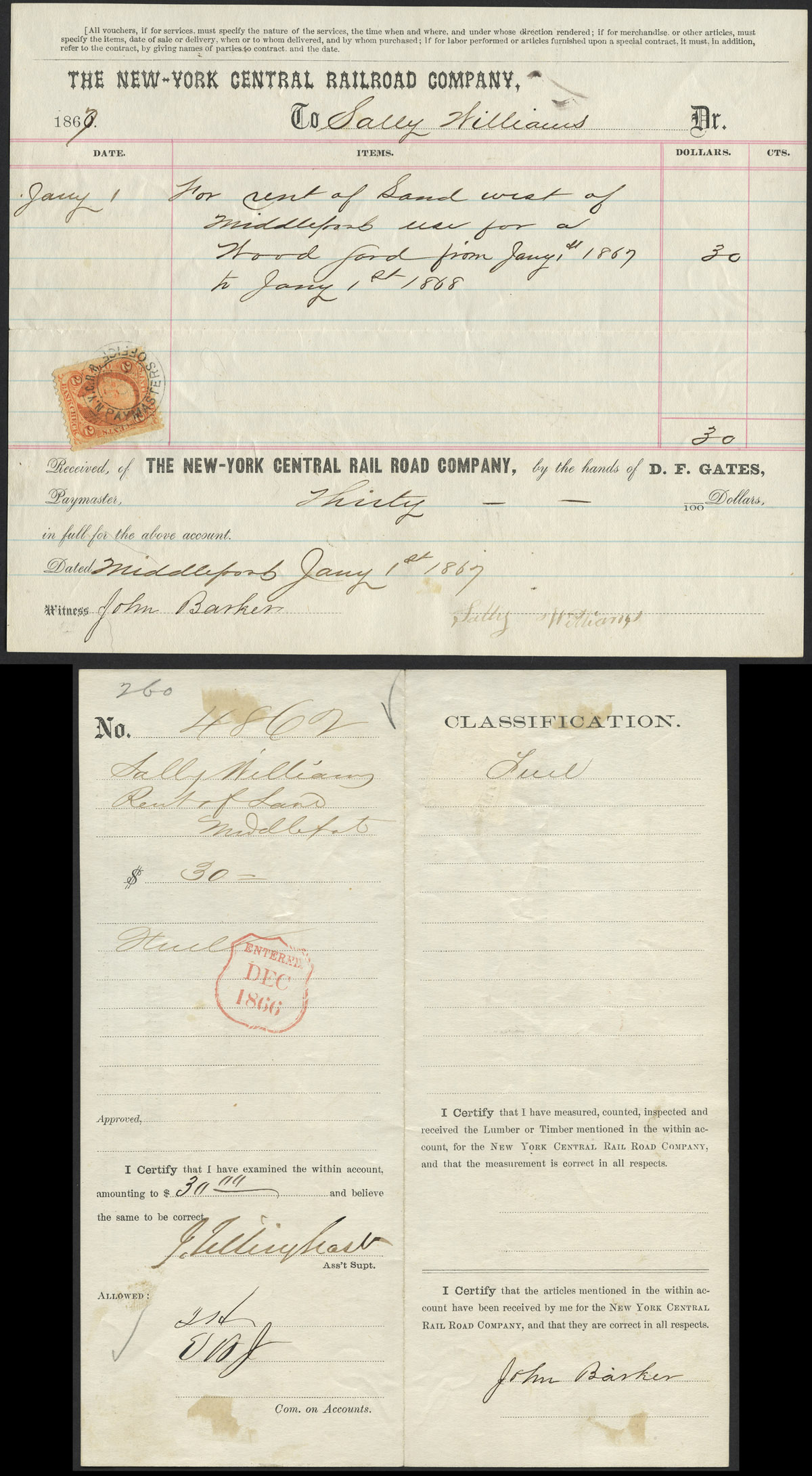 Scott # R7c

Scott # R8c
Looks like someone trimmed it in an attempt to create an R8b, which does not exist. Still has a nice cancel though.
Scott # R13c
Scott # R18b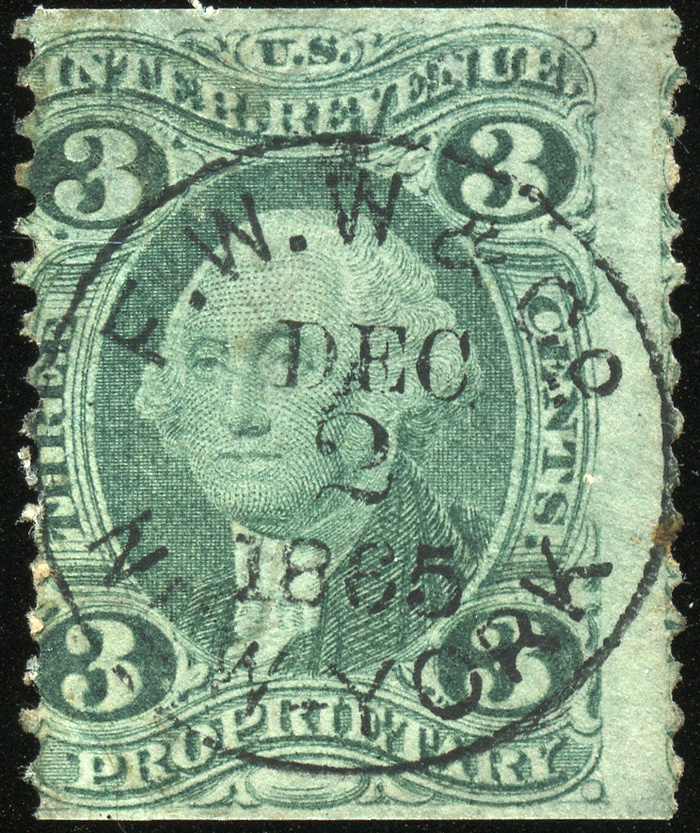 Importer. R18c Trimmed to appear as an R18b.
Scott # R18b
Wrong color for an early printing, in my opinion. Likely a misperfed R18c that has been trimmed.
Scott # R30c
Scott # R30c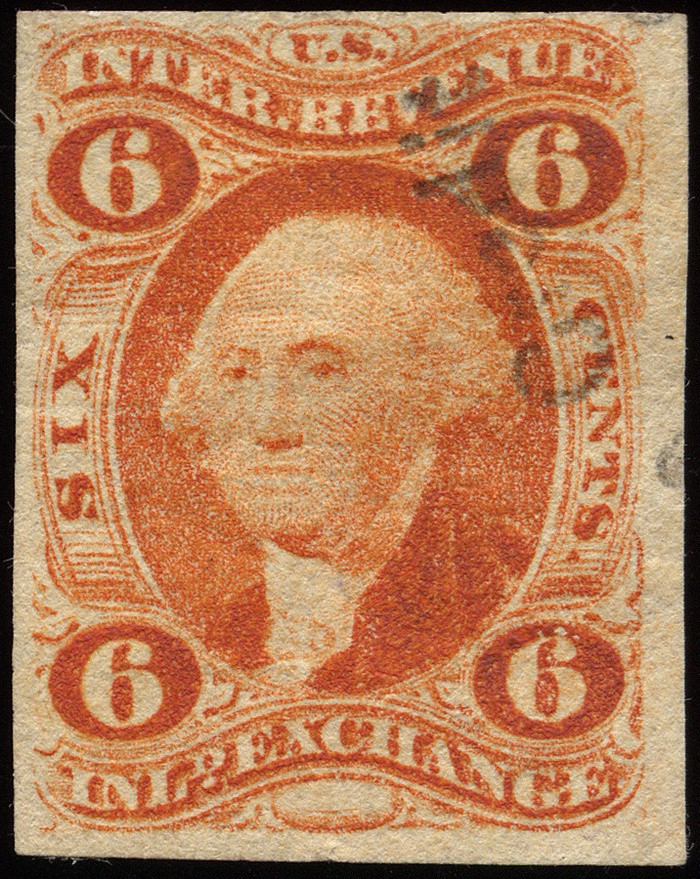 Someone attempted to fake an R30a (which does not exist, according to Scott) by trimming perfs off an oversized R30c.
Scott # R32b
Scott # R33b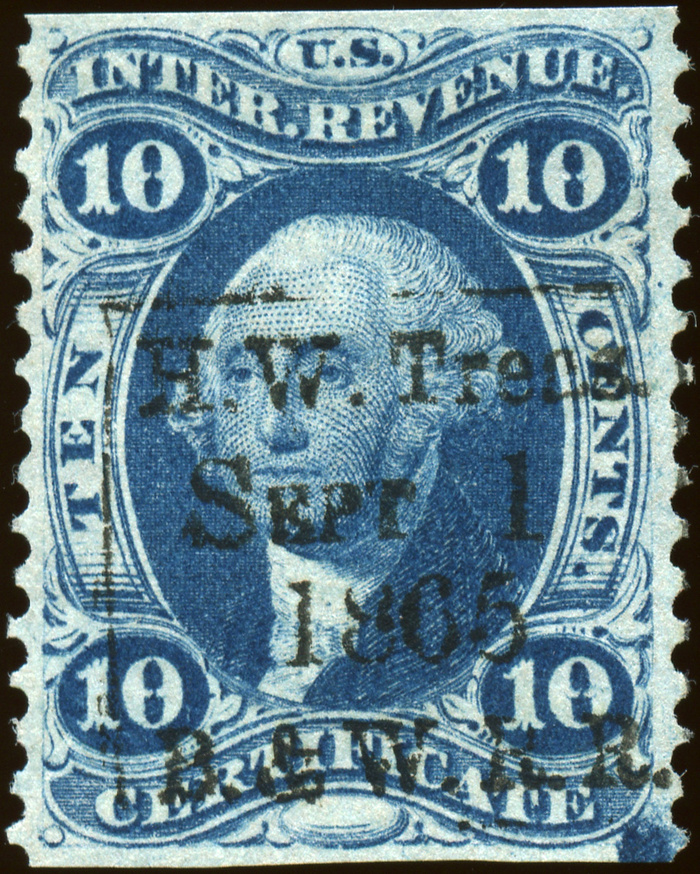 The top and bottom margins are too small and a bit too uneven to consider this a legitimate R33b.
Scott # R36a
Cancel type N-11AX. The jaggedness of the cuts would indicate that this is a trimmed-down R36b intended to fool people as an R36a. There appear to be residual perforations at bottom.
Scott # R36e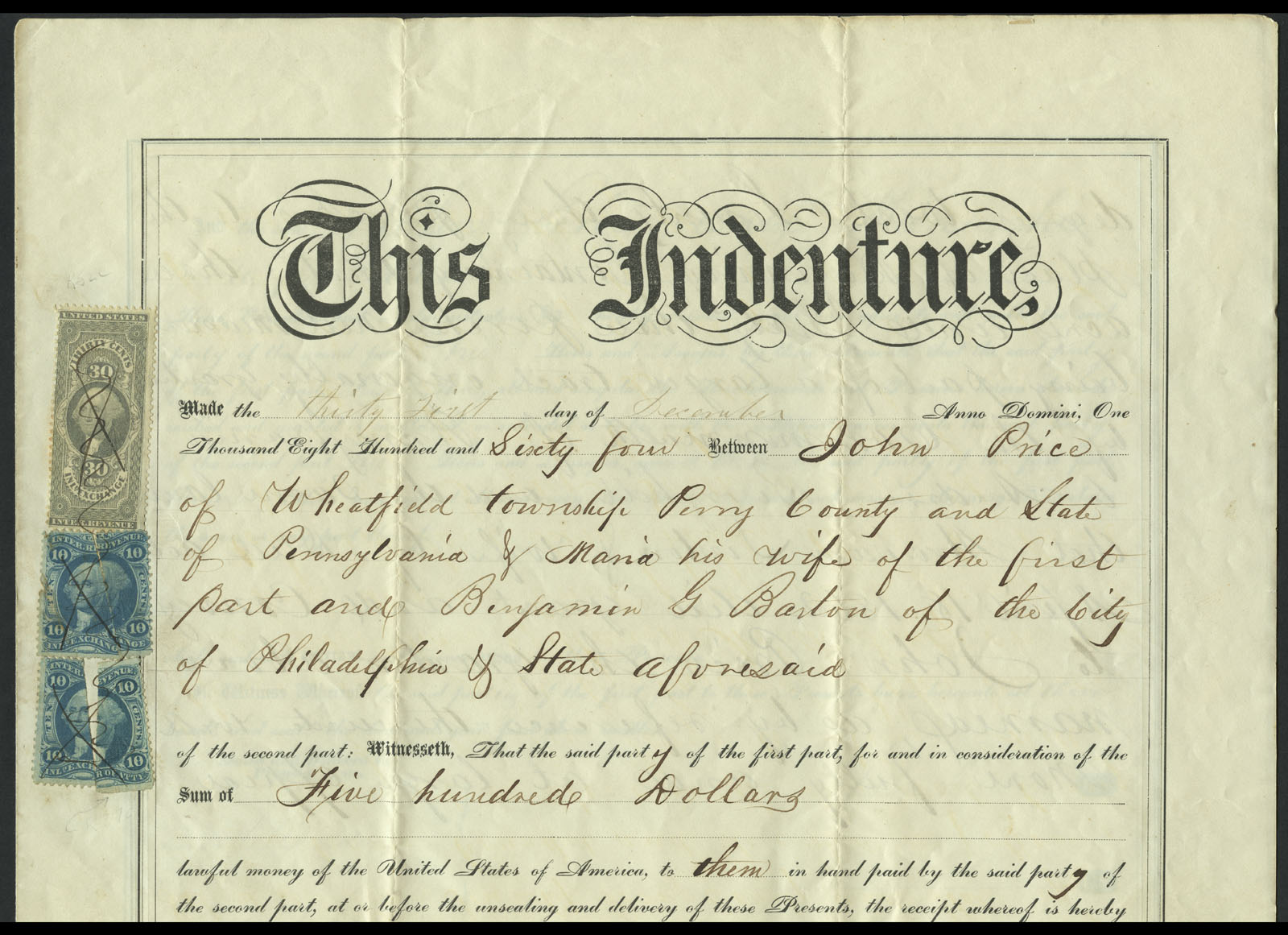 Scott # R43b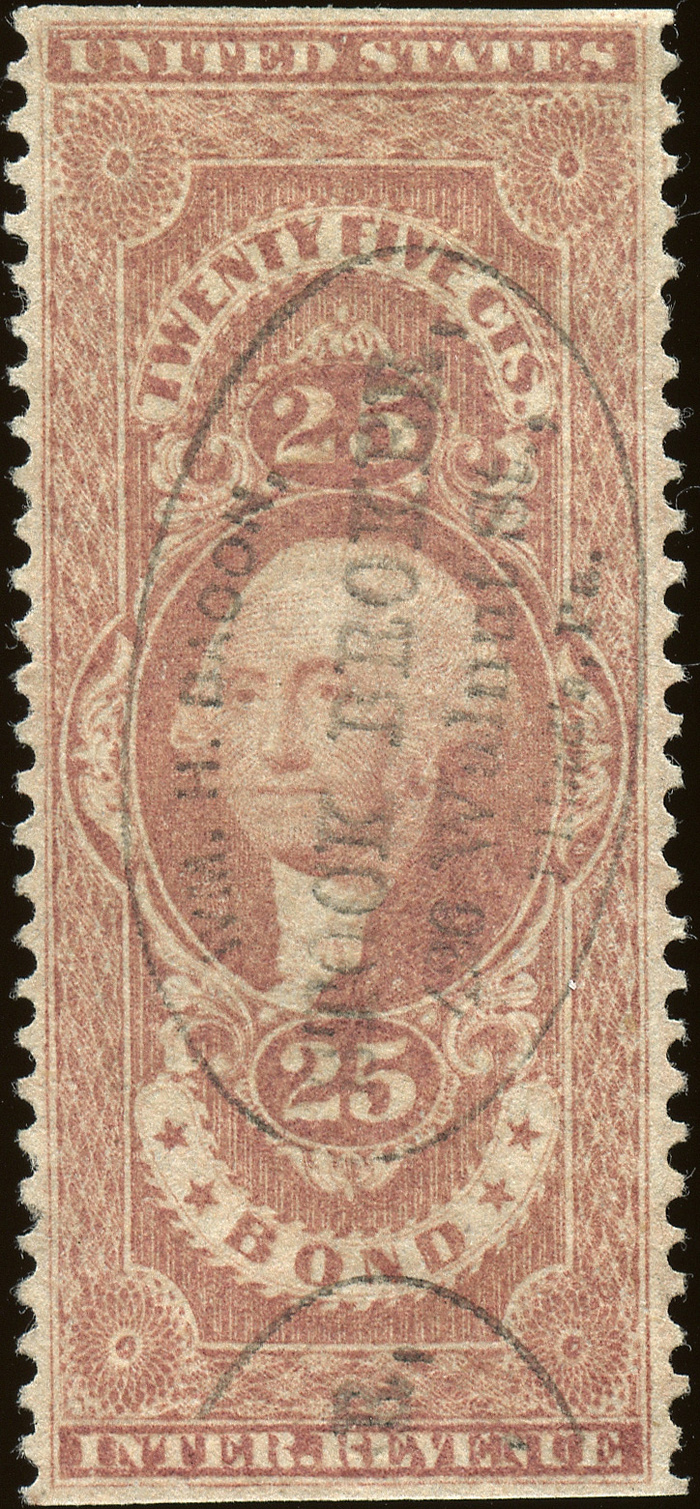 Great cancel, but top and bottom margins are too small to be sure that it is a legitimate part perf.
Scott # R44c
Scott # R50b
Scott # R51a
Scott # R52d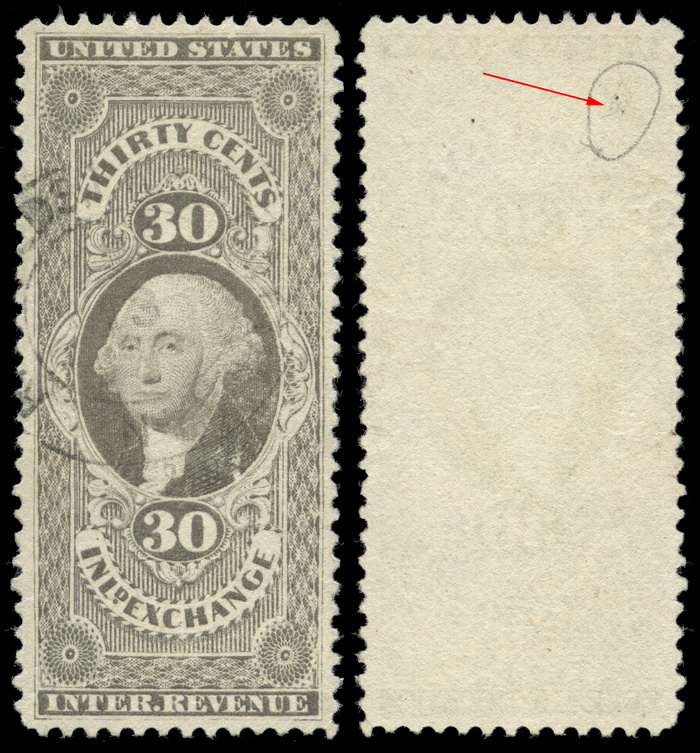 Silk fibers, but according to APEX 'not the silk fiber indicative of silk paper on the First issue' so apparently this is not a legit silk paper. Displayed here for informational purposes.
Scott # R53a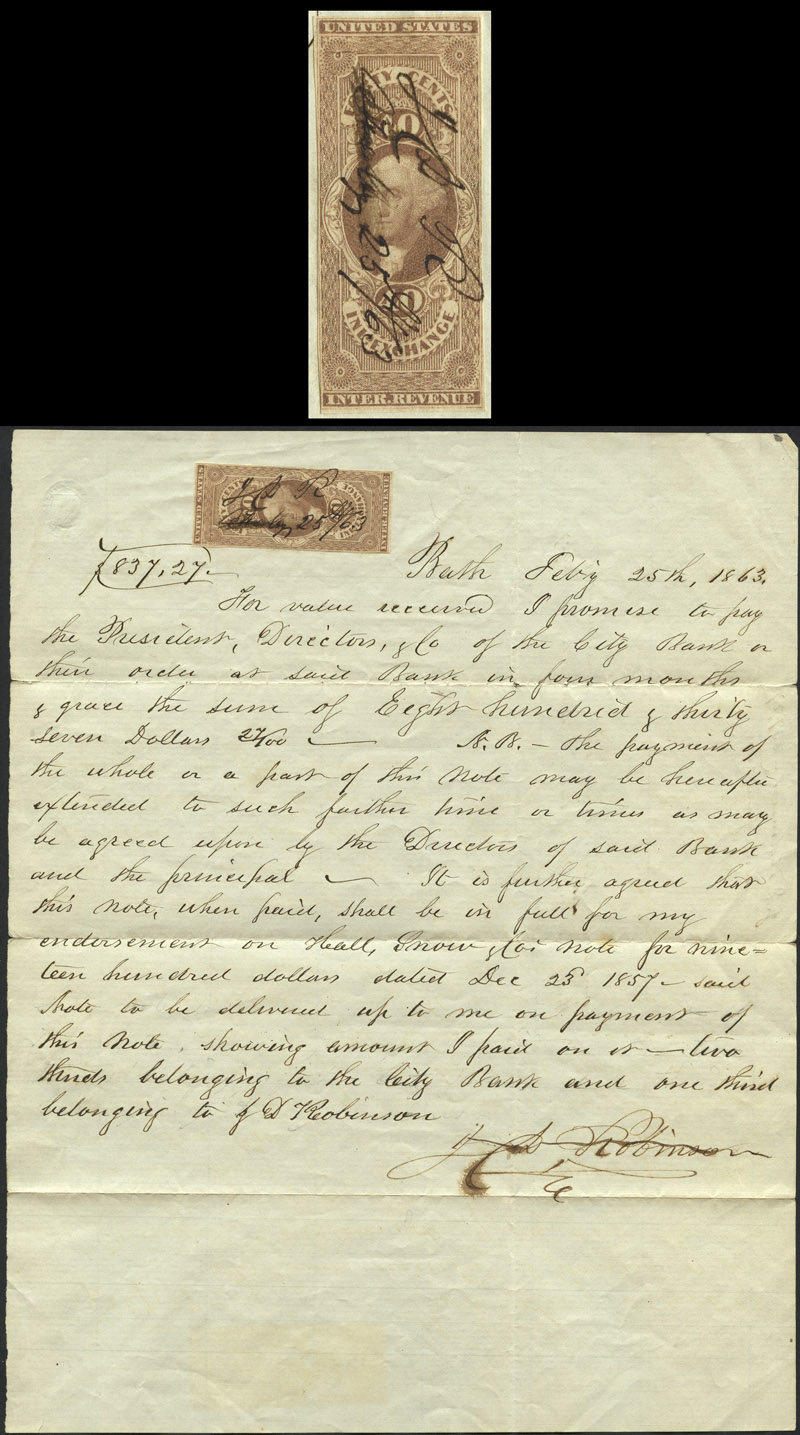 Scott # R53a
Scott # R54c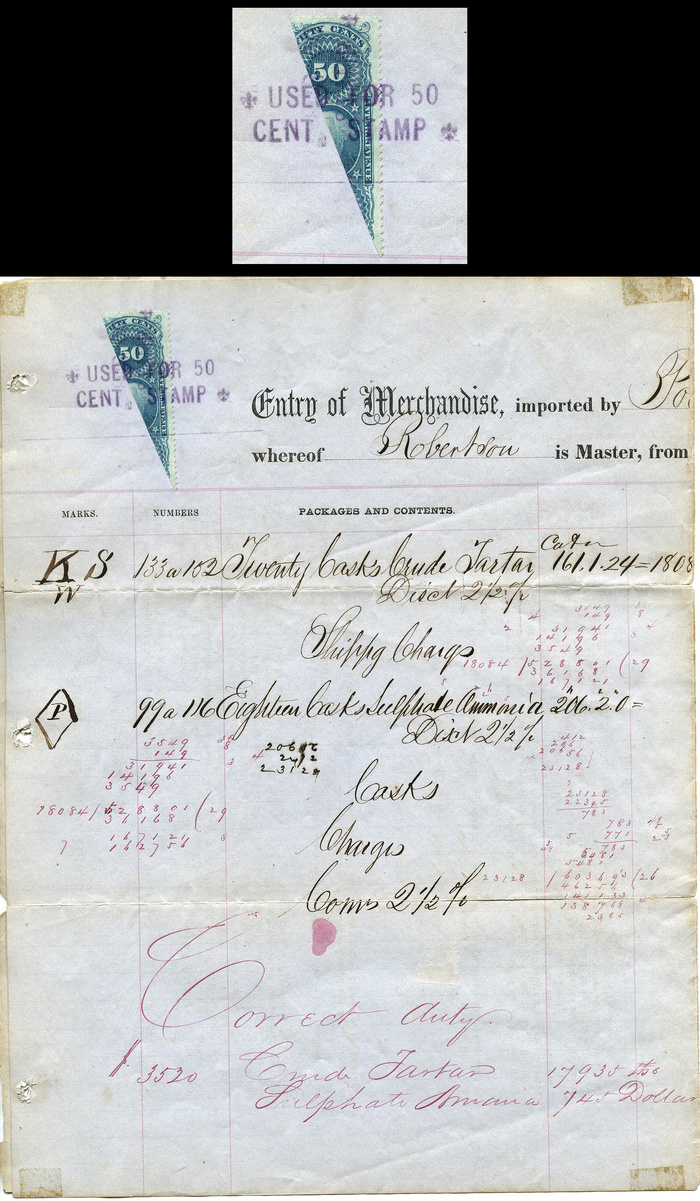 Fake bisect and overprint created by a dealer in the 1930s. Note that the stamp was overprinted twice, once before being affixed, perpendicular to the overprint on the document.
Scott # R66b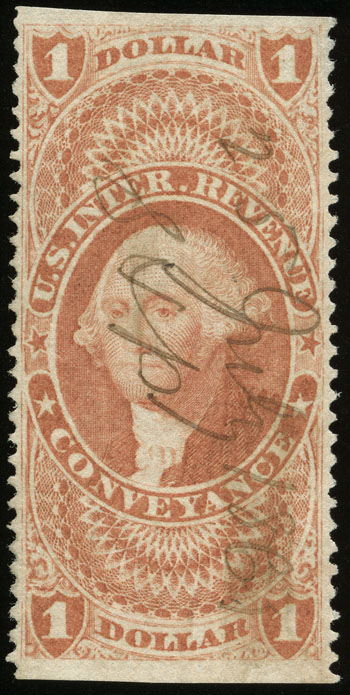 Scott # R69b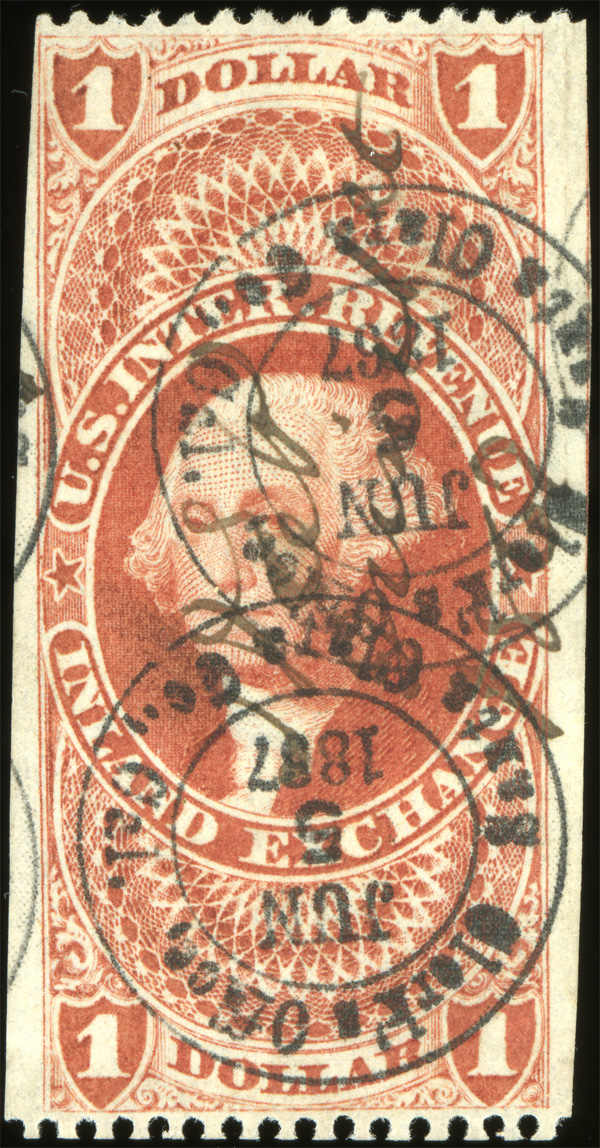 Scott # R83b
According to Scott, this doesn't exist. Most likely an R83c margin copy that someone trimmed top and/or bottom perfs from.
Scott # R105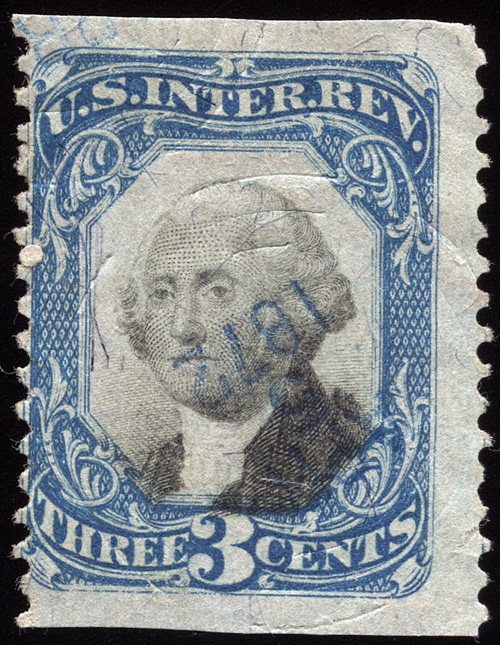 Scott # R109
Scott # R137
Scott # RB15c
2009 APEX certificate. Purchased as a reference fake, a very crude attempt at faking roulettes. The only saving grace is the blue script handstamp cancel.
Scott # RB18c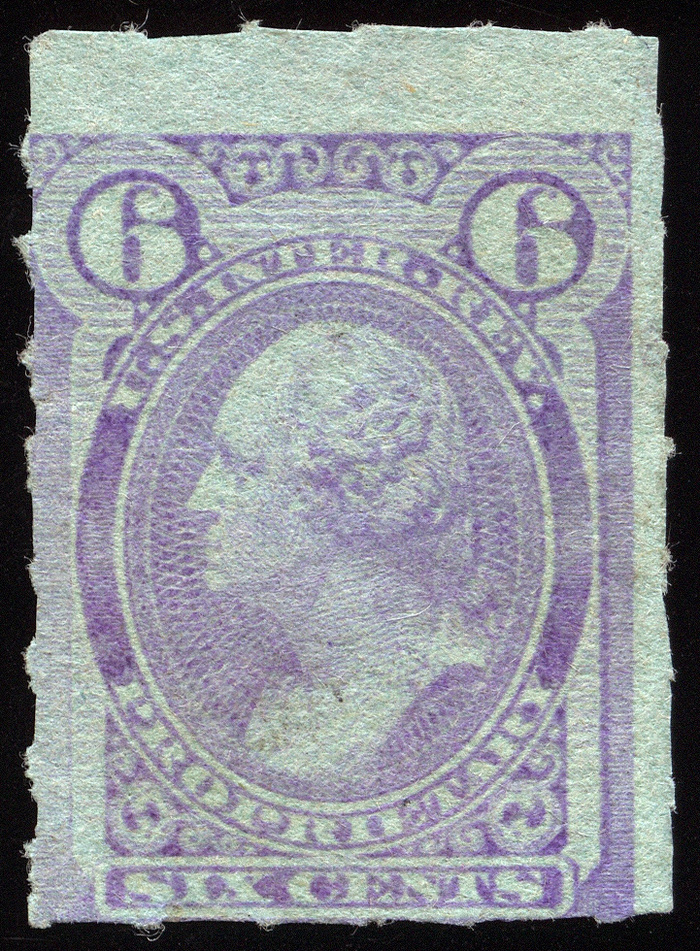 2009 APEX certificate. Purchased as a reference fake, this has got to be the most crude attempt at forging roulettes I have ever seen. The edges are crooked!