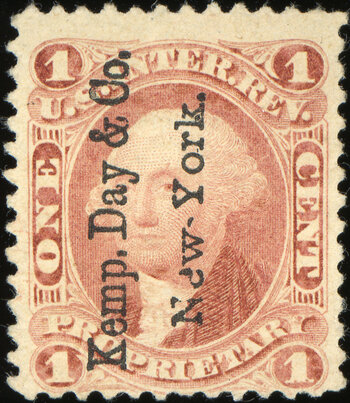 Hover your cursor over the image to see a zoom at right.
Use your mouse's scroll wheel to change the zoom level.

Or click here to see the full-size high res image
Scott Number: R3c Collection Reference No. for Communications: 1150
Denomination/Type: 1c Proprietary, red, perforated
2023 Scott Catalog Value (for a single stamp): $ 0.50

Estimated Retail Value: $ 30.00 What is this?
Cancel Method: Printed
Cancel Color: Black
Cancel or Company Type: Manufacturer/Industrial Trade
Company: Kemp, Day & Co.
City: New York
State: New York
'Packers and Preservers of Meat, Poultry, Game, Fish, Fruits, Vegetables, Shell Fish, Pickles, etc.'
If you have any information or comments about this cancel or stamp, please email me.