Scott Number: R123 Collection Reference No. for Communications: 1213
Denomination/Type: $2 blue and black
2020 Scott Catalog Value (for a single stamp): $ 25.00

Estimated Retail Value: $ 175.00 What is this?
Cancel Method: Handstamped - Single Line
Cancel Color: Blue
Cancel or Company Type: Steamship/Shipping/Maritime Company
Company: Pacific Mail Steamship Co.
Three strikes of blue handstamp from the Pacific Mail steamship Rising Star.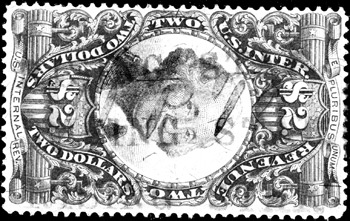 If you have any information or comments about this cancel or stamp, please email me.