Scott Number: R90a Collection Reference No. for Communications: 1308
Denomination/Type: $5 Manifest, red, imperforate
2023 Scott Catalog Value (for a single stamp): $ 250.00

Estimated Retail Value: $ 300.00 What is this?
Cancel Method: Manuscript
Cancel Color: Black
Cancel Date: April 29, 1863
Cancel or Company Type: Steamship/Shipping/Maritime Company
Company: Charles H. Marshall & Co.
City: New York
State: New York
Signed by Capt. Charles H. Marshall, at the age of 72, 2.5 years before his death in October of 1865. It's a shame this was removed from the document, as it would have been a great EMU.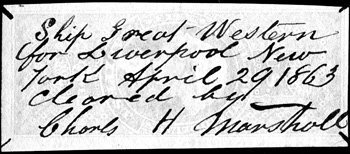 If you have any information or comments about this cancel or stamp, please email me.