Scott Number: R2a Collection Reference No. for Communications: 1401
Denomination/Type: 1c Playing Cards, red, imperforate
2023 Scott Catalog Value (for a single stamp): $4500.00

Estimated Retail Value: $2900.00 What is this?
Cancel Method: Manuscript
Cancel Date: March 24, 1863
Cancel or Company Type: Unknown
2010 Philatelic Foundation certificate. Natural preprint paper folds at left and bottom right that are mistakenly referred to as creases on the certificate.
(click on the image below to see a larger picture of the cert.)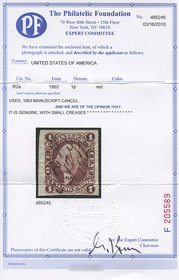 If you have any information or comments about this cancel or stamp, please email me.