Scott Number: R40f Collection Reference No. for Communications: 1409
Denomination/Type: 15c Inland Exchange, brown, double impression, perforated
2023 Scott Catalog Value (for a single stamp): $1000.00

Estimated Retail Value: $ 850.00 What is this?
Cancel Method: Handstamped - Circle
Cancel Color: Blue
Cancel Date: October 07, ????
Cancel or Company Type: Unknown
2011 Philatelic Foundation certificate. Double impression. Superb example, with the cancel doubled in addition to the design itself... how appropriate. Much more scarce than the catalog value implies.
(click on the image below to see a larger picture of the cert.)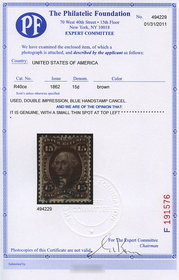 If you have any information or comments about this cancel or stamp, please email me.