Scott Number: R82e Collection Reference No. for Communications: 1415
Denomination/Type: $2 Mortgage, red, half used as $1 on document
2023 Scott Catalog Value: $ 800.00
Estimated Retail Value: $ 900.00 What is this?
Cancel Method: Manuscript
Cancel Color: Black
Cancel Date: May 01, 1866
Cancel or Company Type: Unknown
City: Bedford County
State: Pennsylvania
2011 Philatelic Foundation certificate. Bottom half of an R82c used as $1 on document, the bottom half of which was used the day before, on this document.

This image shows the two halves of the stamp superimposed upon one another, showing they are the same stamp.
(click on the image below to see a larger picture of the cert.)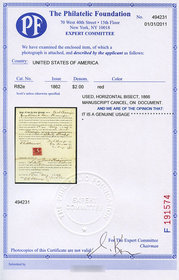 If you have any information or comments about this cancel or stamp, please email me.