Scott Number: R84c Collection Reference No. for Communications: 1710
Denomination/Type: $2.50 Inland Exchange, purple, perforated
2023 Scott Catalog Value (for a single stamp): $ 22.50

Estimated Retail Value: $ 50.00 What is this?
Cancel Method: Multiple cancel types
Cancel Color: Multicolor
Cancel Date: June 08, 1868
Cancel or Company Type: Manufacturer/Industrial Trade
Company: New Britain Knitting Co.
City: New York
State: New York
Wonderful multiple cancels. A SON blue cancel from the New Britain Knitting Co. and also an embossed cancel from the National Shoe & Leather Bank.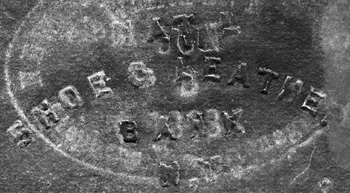 If you have any information or comments about this cancel or stamp, please email me.