Scott Number: R5c Collection Reference No. for Communications: 1906
Denomination/Type: 2c Bank Check, blue, perforated
2023 Scott Catalog Value (for a single stamp): $ 0.50

Estimated Retail Value: $ 15.00 What is this?
Cancel Method: Handstamped - Circle
Cancel Date: January 1862
Cancel or Company Type: Unknown
Impossible cancellation date. The taxation requirement that 1st-issue revenues were created to address did not begin until October 1, 1862. Either the cancel was intended for January of 1863 or some other year and they set it wrong, or the cancel was backdated to match the original transaction date.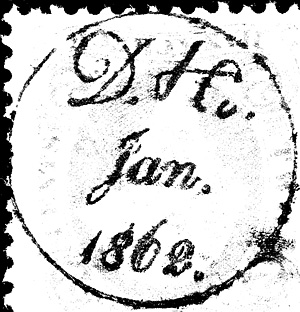 If you have any information or comments about this cancel or stamp, please email me.