Scott Number: R66b Collection Reference No. for Communications: 2385
Denomination/Type: $1 Conveyance, red, part perforate
Because this is a counterfeit/forgery, the catalog value does not apply. However, it may have value as a reference item.
Estimated Retail Value: $ 40.00 What is this?
Cancel Method: Manuscript
Cancel Date: July 25, 1863
Cancel or Company Type: Unknown
2011 Philatelic Foundation certificate. Purchased as a fake for reference purposes. An R66a that someone perforated on the left and right sides. The perforations are the correct gauge (12), but are too irregular.
(click on the image below to see a larger picture of the cert.)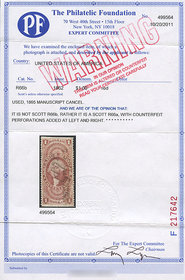 If you have any information or comments about this cancel or stamp, please email me.