Scott Number: R36a Collection Reference No. for Communications: 2534
Denomination/Type: 10c Inland Exchange, blue, imperforate
Because this is a counterfeit/forgery, the catalog value does not apply. However, it may have value as a reference item.
Cancel Method: Handstamped - Boxed
Cancel Color: Black
Cancel Date: December 14, 1864
Cancel or Company Type: Railroad
Company: New York Central Railroad
Cancel type N-11AX. The jaggedness of the cuts would indicate that this is a trimmed-down R36b intended to fool people as an R36a. There appear to be residual perforations at bottom.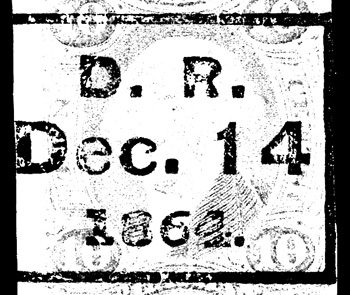 If you have any information or comments about this cancel or stamp, please email me.