Scott Number: R53a Collection Reference No. for Communications: 2593
Denomination/Type: 40c Inland Exchange, brown, imperforate
Because this is a counterfeit/forgery, the catalog value does not apply. However, it may have value as a reference item.
Estimated Retail Value: $ 50.00 What is this?
Cancel Method: Manuscript
Cancel Date: February 25, 1863
Cancel or Company Type: Unknown
2018 Philatelic Foundation certificate. I have classified this as a fake, because the margins are virtually nonexistent, and it was purchased as being NOT a legitimate R53a. However, the stamp is barely tied to the document at the very top, so I do not believe it to be a philatelic creation. Rather, for whatever reason, the party originally affixing the stamp trimmed it close. There is no way to know if this stamp is an R53a, R53b, or R53c. Still, an interesting item. Subsequently received a declined opinion from the Philatelic Foundation, as expected.
(click on the image below to see a larger picture of the cert.)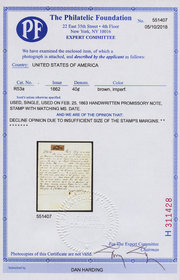 If you have any information or comments about this cancel or stamp, please email me.