Scott Number: R176 Collection Reference No. for Communications: 2602
Denomination/Type: $10 black, rouletted 5.5
2020 Scott Catalog Value: $ 0.65
Estimated Retail Value: $ 1.50 What is this?
Cancel Method: Multiple cancel types
Cancel Color: Magenta/Purple
Cancel Date: May 1900
Cancel or Company Type: Manufacturer/Industrial Trade
Company: The American Bell Telephone Co.
Nice contrasting magenta handstamp cancel. Also cut cancelled.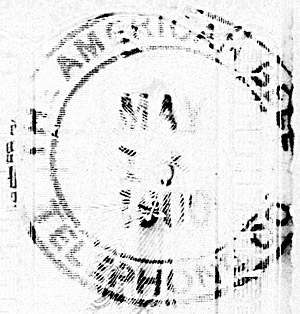 If you have any information or comments about this cancel or stamp, please email me.