Scott Number: RB11b Collection Reference No. for Communications: 2614
Denomination/Type: 1c green, watermark 191R, perforated
2020 Scott Catalog Value (for a single stamp): $ 0.50

Estimated Retail Value: $ 10.00 What is this?
Cancel Method: Printed
Cancel Color: Magenta/Purple
Cancel Date: November 14, 1878
Cancel or Company Type: Druggist/Pharmacist/Patent Medicine
Company: Carter Medicine Co.
Searches turn up two examples of 'Carter Medicine Co.' in 1878, one in New York City and one in Erie, PA. I'm not sure which one this is.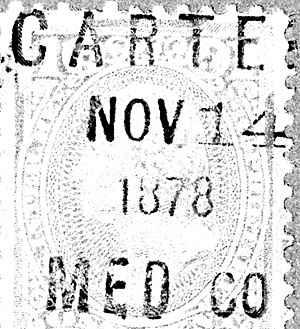 If you have any information or comments about this cancel or stamp, please email me.