Scott Number: R56a Collection Reference No. for Communications: 2701
Denomination/Type: 50c Foreign Exchange, blue, imperforate
2023 Scott Catalog Value (for a single stamp): $ 75.00

Estimated Retail Value: $ 125.00 What is this?
Cancel Method: Handstamped - Circle
Cancel Color: Black
Cancel Date: May 15, 1862
Cancel or Company Type: Unknown
Company: Charles Taylor
Impossible date on the cancel (Oct. 1, 1862 is when the tax went into effect). Most likely someone accidentally put in an incorrect final digit in the date slug.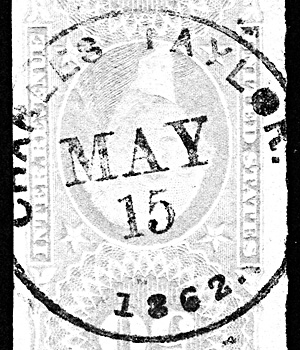 If you have any information or comments about this cancel or stamp, please email me.