Scott Number: R15c Collection Reference No. for Communications: 2901
Denomination/Type: 2c U.S. Internal Revenue, perforated
2023 Scott Catalog Value (for a single stamp): $ 0.25

Estimated Retail Value: $ 60.00 What is this?
Cancel Method: Stencil
Cancel Color: Black
Cancel or Company Type: Photographer
Company: R. E. Merrifield
City: Shelby
State: Ohio
One of two different stencil cancels used by this photographer. The other one is more ornate, with a wavy design. It can be seen here. Ex-Baryla, from his award winning Civil War Sun Tax exhibit.
(click on the image below to see a larger picture of the front of the CDV.)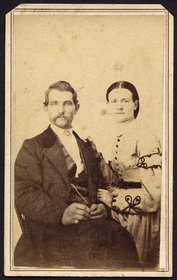 If you have any information or comments about this cancel or stamp, please email me.