Scott Number: R48c Collection Reference No. for Communications: 2912
Denomination/Type: 25c Power of Attorney, red, perforated
2023 Scott Catalog Value (for a single stamp): $ 1.00

Estimated Retail Value: $1100.00 What is this?
Cancel Method: Stencil
Cancel or Company Type: Photographer
Company: Sewell's Art Gallery
City: Sonora
State: California
An amazing stencil cancel, thus far the only reported example from this California photographer. This stamp may have set a record for the largest premium for a cancel over the stamp's value when it realized $525 in 1991 as part of the Morton Dean Joyce Collection. Ex-Baryla, from his award winning Civil War Sun Tax exhibit.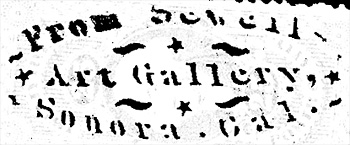 If you have any information or comments about this cancel or stamp, please email me.