Scott Number: R139 Collection Reference No. for Communications: 3049
Denomination/Type: 15c brown and black
2020 Scott Catalog Value (for a single stamp): $ 27.50

Estimated Retail Value: $ 80.00 What is this?
Cancel Method: Handstamped - Oval
Cancel Color: Black
Cancel Date: May 01, 1872
Cancel or Company Type: Merchant
Company: W. Bailey Lang & Co.
City: New York
State: NY
Locomotive and railway supplies. Ex-Morrissey. Wonderful diminuitive cancel.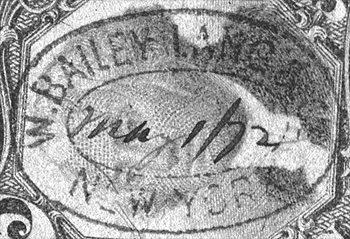 If you have any information or comments about this cancel or stamp, please email me.