Scott Number: R23c Collection Reference No. for Communications: 3097
Denomination/Type: 5c Agreement, red, perforated
2023 Scott Catalog Value (for a single stamp): $ 0.50

Estimated Retail Value: $ 250.00 What is this?
Cancel Method: Embossed
Cancel Date: September 19, 1870
Cancel or Company Type: Other/Miscellaneous
Company: Masonic Relief Association
City: Elmira
State: New York
Aesthetically beautiful early membership certificate from the Masonic Relief Association. The red and green inks make for a wonderful presentation, and the embossed cancel is just absolutely hammered.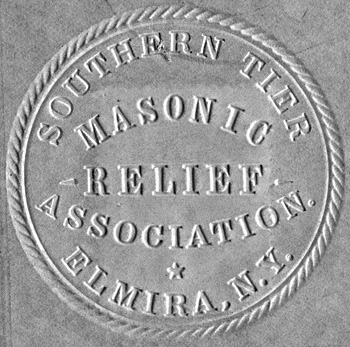 If you have any information or comments about this cancel or stamp, please email me.