Scott Number: R86c Collection Reference No. for Communications: 3229
Denomination/Type: $3 Manifest, green, perforated
2023 Scott Catalog Value (for a single stamp): $ 55.00

Estimated Retail Value: $ 40.00 What is this?
Cancel Method: Handstamped - Single Line
Cancel Color: Blue
Cancel or Company Type: Steamship/Shipping/Maritime Company
Company: Pacific Mail Steamship Co.
City: New York
State: New York
Multiple strikes from the Pacific Mail Steamship 'China'. The color of the cancels is barely discernable on the front of the stamp, but the cancels were struck so heavily that their impressions are readable in the paper and the cancel actually breaks through the paper in several places.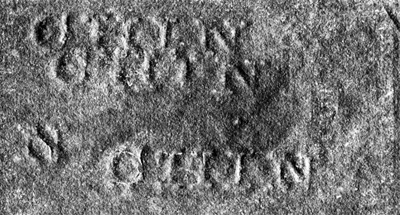 If you have any information or comments about this cancel or stamp, please email me.