Scott Number: RB18c Collection Reference No. for Communications: 3280
Denomination/Type: Proprietary: 6c violet, watermark 191R, rouletted
Because this is a counterfeit/forgery, the catalog value does not apply. However, it may have value as a reference item.
Estimated Retail Value: $ 10.00 What is this?
Cancel Method: Uncancelled
2009 APEX certificate. Purchased as a reference fake, this has got to be the most crude attempt at forging roulettes I have ever seen. The edges are crooked!
(click on the image below to see a larger picture of the cert.)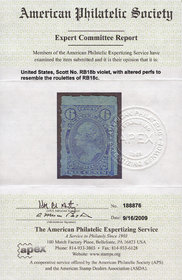 If you have any information or comments about this cancel or stamp, please email me.