Scott Number: R7a Collection Reference No. for Communications: 3579
Denomination/Type: 2c Certificate, blue, imperforate
2023 Scott Catalog Value (for a single stamp): $ 20.00

Estimated Retail Value: $ 50.00 What is this?
Cancel Method: Handstamped - Oval
Cancel Color: Blue
Cancel Date: May 01, 1863
Cancel or Company Type: Express, Carrier, or Delivery
Company: Wells Fargo
City: Oroville
State: California
Interesting Wells Fargo cancel, appears to be a postal cancel. It would have been interesting to see this on its original document or cover...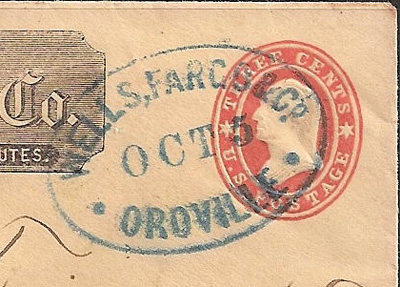 If you have any information or comments about this cancel or stamp, please email me.