Scott Number: R205 Collection Reference No. for Communications: 3736
Denomination/Type: 80c rose, watermark 190, perf. 10
2020 Scott Catalog Value: $ 72.50
Estimated Retail Value: $ 60.00 What is this?
Cancel Method: Handstamped - Multiple Line
Cancel Color: Magenta/Purple
Cancel Date: March 14, 1916
Cancel or Company Type: Merchant
Company: O. H. Canby & Co.
City: Chicago
State: IL
Commission merchants. Block of four.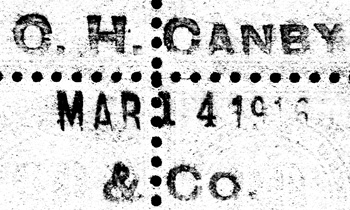 If you have any information or comments about this cancel or stamp, please email me.