Scott Number: R6c Collection Reference No. for Communications: 3802
Denomination/Type: 2c Bank Check, orange, perforated
2023 Scott Catalog Value (for a single stamp): $ 0.45

Estimated Retail Value: $ 30.00 What is this?
Cancel Method: Handstamped - Ornate/Complex
Cancel Color: Black
Cancel or Company Type: Unknown
Very unusual cancel. Appears it might be the top right poertion of a shield with W and D initials in an ornate medieval font. Ornament above could possibly be a dolphin overlaying an anchor.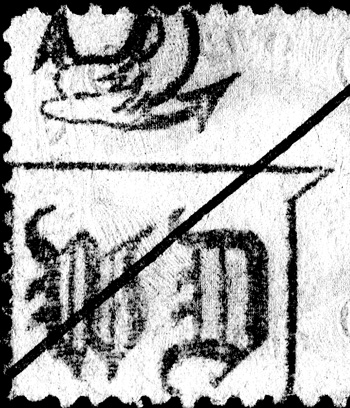 If you have any information or comments about this cancel or stamp, please email me.