Scott Number: R14c Collection Reference No. for Communications: 4165
Denomination/Type: 2c Proprietary, orange, perforated
2023 Scott Catalog Value (for a single stamp): $ 70.00

Estimated Retail Value: $ 100.00 What is this?
Cancel Method: Handstamped - Design/Symbol
Cancel Color: Black
Cancel or Company Type: Photographer
Company: Whitney & Beckwith
City: Norwalk
State: Connecticut
Courtesy of Bruce Baryla — This 'Skull and Bones' handstamp was known to collectors of fancy handstamps by its appearance as a 'sender's mark' on covers mailed in 1857 by the 'Society of Twenty-Two,' a Yale University based fraternal group associated with the famous Skull and Bones Society.
This same handstamp was used years later as a stamp canceling device. As it turns out, the secretary of the 'Society of Twenty-Two' in 1857 was Robert A. Beckwith. He became a photographer and co-owner of the Whitney & Beckwith studio — and he repurposed the handstamp from his college days to cancel revenue stamps.
See this blog entry for other examples with different portions of the cancel.
(click on the image below to see a larger picture of the front of the CDV.)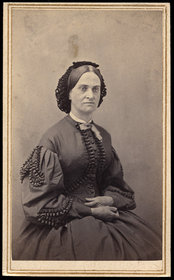 If you have any information or comments about this cancel or stamp, please email me.