Scott Number: R13c Collection Reference No. for Communications: 4330
Denomination/Type: 2c Proprietary, blue, perforated
2023 Scott Catalog Value (for a single stamp): $ 0.40

Estimated Retail Value: $ 50.00 What is this?
Cancel Method: Manuscript
Cancel or Company Type: Photographer
Company: C. D. Fredricks & Co.
City: New York
State: New York
Photo is of Charles W. Nestel, known as 'Commodore Foote,' the smallest man in the world, and his sister, Miss Eliza S. Nestel, known as the 'Fairy Queen' of the West, the smallest lady in the world.
(click on the image below to see a larger picture of the front of the CDV.)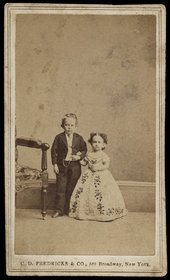 If you have any information or comments about this cancel or stamp, please email me.