Scott Number: RNT2 Collection Reference No. for Communications: 4423
2023 Scott Catalog Value: $ 130.00
Estimated Retail Value: $ 130.00 What is this?
Cancel Method: Manuscript
Cancel or Company Type: Railroad
Company: Boston Hartford & Erie Railroad
Cox Railroad Stock/Bond Catalog Number: BOS-324 B-35a
Cox Railroad Stock/Bond Catalog Value: $50-$75
Otherwise common railroad bond, but very low serial number (#7) out of approximately 20,000 printed. More importantly, the imprinted revenues were just haphazardly positioned, which was fixed at some point before serial number 128, and then aligned from that point onward. See secondary image for the normal positioning.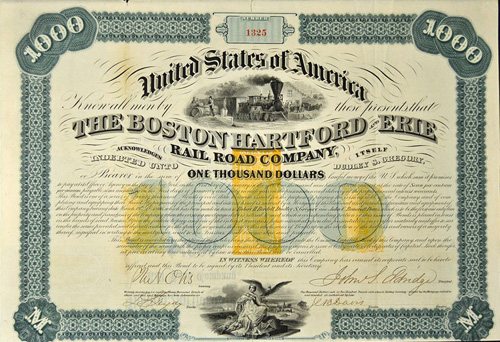 If you have any information or comments about this cancel or stamp, please email me.