Scott Number: R165p Collection Reference No. for Communications: 4435
Denomination/Type: 3c dark blue, hyphen hole-perf. 7
Estimated Retail Value: $ 150.00 What is this?
Cancel Method: Handstamped - Ornate/Complex
Cancel Color: Red
Cancel Date: June 25, 1901
Cancel or Company Type: Bank/Banker/Broker
Company: Worcester National Bank
City: Worcester
State: Massachusetts
Irregular block of 19 of the 3-cent battleship revenue stamp with hyphen-hole perforations on a 1901 promissory note. Per the Curtis Census, this is far and away the largest reported multiple of R165p, with the second largest multiple being a block of 6.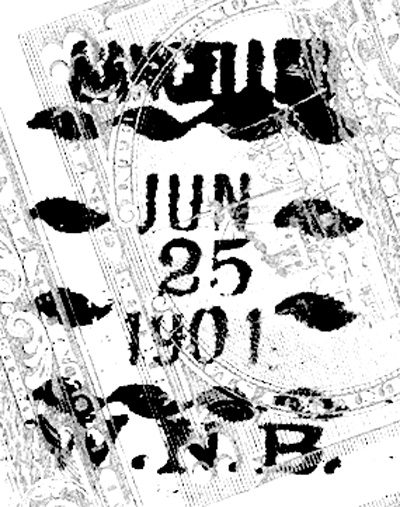 If you have any information or comments about this cancel or stamp, please email me.