Scott Number: R37c Collection Reference No. for Communications: 4550
Denomination/Type: 10c Power of Attorney, blue, perforated
2020 Scott Catalog Value (for a single stamp): $ 1.00

Estimated Retail Value: $ 150.00 What is this?
Cancel Method: Handstamped - Oval
Cancel Color: Red
Cancel Date: October 02, 1868
Cancel or Company Type: Insurance Company/Agent
Company: John R. Wiltsie & Son
City: Newburgh
State: NY
Ornate 2-color insurance policy from the Market Fire Insurance Co., featuring a bold red oval handstamp from the insurance agent. Document also features an ornately engraved revenus stamp placeholder in red that explains the rates to be affixed (see composite image below).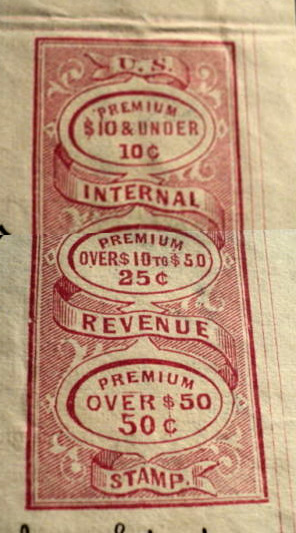 If you have any information or comments about this cancel or stamp, please email me.