Scott Number: R18c Collection Reference No. for Communications: 4787
Denomination/Type: 3c Proprietary, green, perforated
2023 Scott Catalog Value (for a single stamp): $ 9.00

Estimated Retail Value: $ 60.00 What is this?
Cancel Method: Stencil
Cancel or Company Type: Photographer
Company: L. B. Simonds
City: Athol
State: Massachusetts
'Ambrotype artist'. Wonderful large-format stencil backstamp. It's possible this was also used as a stamp cancel; if you have any examples, please contact me.
(click on the image below to see a larger picture of the front of the CDV.)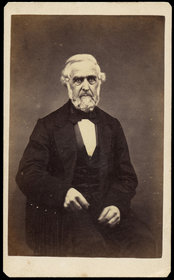 If you have any information or comments about this cancel or stamp, please email me.