Scott Number: RB4d Collection Reference No. for Communications: 4809
Denomination/Type: Proprietary: 4c green and black, vert. half used as 2c on document
2023 Scott Catalog Value (for a single stamp): Rare/Unlisted

Estimated Retail Value: $1000.00 What is this?
Cancel Method: Manuscript
Cancel Color: Black
Cancel or Company Type: Druggist/Pharmacist/Patent Medicine
Company: Alfred Tatem
City: Philadelphia
State: Pennsylvania
2018 Philatelic Foundation certificate. Vertical bisect on a complete label for a trial size of 'Fish's Saratoga Asperient' prepared by George H. Fish & SOns, Saratoga Springs, New York. The regular size would have been taxed at 4 cents, hence the 2-cent tax on the trial size. Scott lists but does not price RB4d. This is the first example I have ever seen. I am aware of one other example, found by a New York collector approximately 40 years ago.
(click on the image below to see a larger picture of the cert.)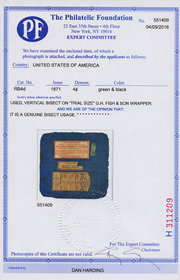 If you have any information or comments about this cancel or stamp, please email me.