Scott Number: R15c Collection Reference No. for Communications: 5101
Denomination/Type: 2c U.S. Internal Revenue, perforated
2023 Scott Catalog Value (for a single stamp): $ 0.25

Estimated Retail Value: $ 500.00 What is this?
Cancel Method: Manuscript
Cancel Date: October 09, 1865
Cancel or Company Type: Photographer
Company: S. C. Hansen
City: Joliet
State: Illinois
Incredibly unusual item; never seen another like it. CDV that served as a raffle ticket. It's not the lottery ticket tax, which expired in 1864. It falls within the taxable period of CDVs, but the initials in the cancel are not that of the photographer. Instead, it appears to match the name written on the ticket, which means it is presumably the person running the lottery or the purchaser of the ticket, paying the tax on the $1 purchase price of the ticket.
(click on the image below to see a larger picture of the front of the CDV.)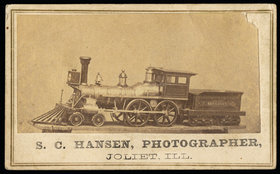 If you have any information or comments about this cancel or stamp, please email me.