Scott Number: R29d Collection Reference No. for Communications: 5255
Denomination/Type: 5c Proprietary, red, silk paper
2023 Scott Catalog Value (for a single stamp): $ 400.00

Estimated Retail Value: $ 500.00 What is this?
Cancel Method: Manuscript
Cancel Date: March 09, 1872
Cancel or Company Type: Law firm or Federal, State, or Local Government Entity
Company: Henry W. Taft, clerk of judicial court
City: Pittsfield
State: Massachusetts
5-cent Proprietary silk paper on an 1872 affidavit. Silk papers are fairly scarce on document, as you typically can only see the blue threads from the reverse of the stamp, meaning it needs to be lifted from the document. In this case, however, there are at least three blue silk threads visible on the face of the stamp. A wonderful example of a scarce silk paper.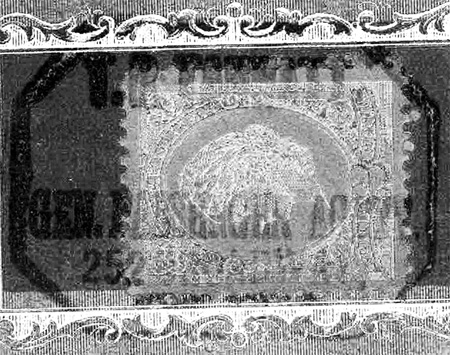 If you have any information or comments about this cancel or stamp, please email me.