Scott Number: R69a Collection Reference No. for Communications: 5318
Denomination/Type: $1 Inland Exchange, red, imperforate
2023 Scott Catalog Value (for a single stamp): $ 17.00

Estimated Retail Value: $ 25.00 What is this?
Cancel Method: Handstamped - Circle
Cancel Color: Black
Cancel Date: June 05, 1867
Cancel or Company Type: Law firm or Federal, State, or Local Government Entity
Company: Clerk's Office
City: Santa Clara County
State: California
An example of what I call 'The California Late Imperfs'. Normally imperforates and part perfs with late cancel dates are an immediate red flag for fakery... the one notable exception being a cache/hoard of imperfs that apparently resurfaced from storage late in the taxation period in California, that are legitimate imperforates and part perfs. Normally you don't find imperfs used after 1864, but California examples can be found MUCH later.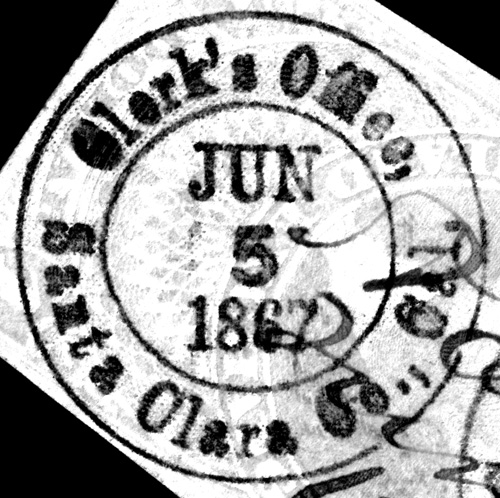 If you have any information or comments about this cancel or stamp, please email me.