Scott Number: 113 Collection Reference No. for Communications: 5672
Denomination/Type: 2c Post Horse and Rider, brown, perf. 12, G grill
2023 Scott Catalog Value (for a single stamp): $ 80.00

Estimated Retail Value: $ 500.00 What is this?
Cancel Method: Handstamped - Oval
Cancel Color: Blue
Cancel Date: February 02, 1870
Cancel or Company Type: Manufacturer/Industrial Trade
Company: Rose, Dinsmore, & Co.
City: New York
State: New York
1870 receipt, with 2-cent tax initially paid by the supplier (Rose, Dinsmore & Co., manufacturer of railway car springs) on February 2, improperly using a 2-cent horse and rider (Scott #113). When it reached the (audit?) office of the New York Central Railroad on February 25, a revenue stamp was properly affixed. Very scarce; currently the only reported example of both a #113 and revenue stamp on the same document.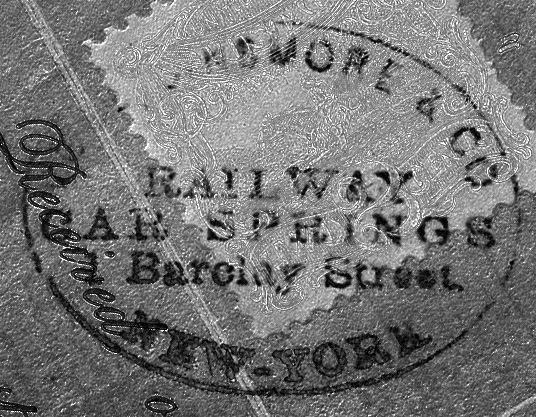 If you have any information or comments about this cancel or stamp, please email me.