Scott Number: R88a Collection Reference No. for Communications: 730
Denomination/Type: $5 Charter Party, red, imperforate
2023 Scott Catalog Value (for a single stamp): $ 350.00

Estimated Retail Value: $ 350.00 What is this?
Cancel Method: Handstamped - Circle
Cancel Color: Black
Cancel Date: April 29, 1867
Cancel or Company Type: Unknown
Company: London and San Fransisco Bank
City: San Francisco
State: California
One of the California late imperf usages (normally a date this late would be a red flag for a trimmed stamp, but late date cancels used on imperfs in California are a known legitimate usage).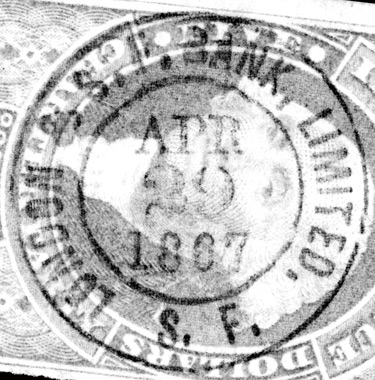 If you have any information or comments about this cancel or stamp, please email me.