Scott Number: R69b Collection Reference No. for Communications: 779
Denomination/Type: $1 Inland Exchange, red, part perforate
Because this is a counterfeit/forgery, the catalog value does not apply. However, it may have value as a reference item.
Estimated Retail Value: $ 30.00 What is this?
Cancel Method: Handstamped - Circle
Cancel Color: Black
Cancel Date: June 05, 1867
Cancel or Company Type: Law firm or Federal, State, or Local Government Entity
Company: Santa Clara County Clerk's Office
City: Santa Clara
State: California
2011 PSAG certificate. Is actually an R69a imperf that has been perforated on two sides to fake an R69b. It's too bad, as the imperf was actually a nice example of one of the 'late date California imperfs'.
(click on the image below to see a larger picture of the cert.)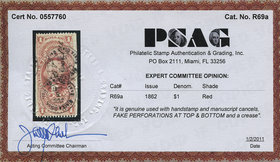 If you have any information or comments about this cancel or stamp, please email me.